Starter Motors / Alternators Electrican Belconnen Canberra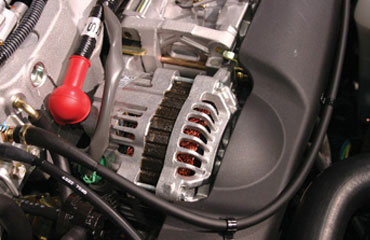 If you've noticed the "charge" icon appear on the dash in front of you, it's very likely you could be having problems with your vehicle's alternator. Alternatively, if you've been trying to start your engine and it just makes a whirring or grinding noise and doesn't turn over, you may have an issue with your starter motor.
At Gibbs Auto Electrical, we have the expertise to repair or replace starter motors and alternators. We supply and install a wide variety of general and more difficult to find alternators and starter motors for all makes and models of vehicle.
Before you decide to repair or replace your alternator, it's recommended that you undergo an alternator test, as it may be something else that is stopping your alternator from functioning correctly. Our mechanical team offer onsite testing of your alternator and battery, to assist with diagnosing any issues.
Some of the reasons why your alternator could be failing to charge are: it has a broken alternator belt or this could be slipping, you have an open circuit occurring in your stator windings, there is an open field circuit, your alternator has worn slip rings or brushes or a faulty voltage regulator. If you're missing the protective engine undercover or the shield this can result in sand or water from the open road getting inside the alternator, which can also cause it to wear out much quicker. Also, if you've had an oil or coolant leak in your engine this can damage your alternator, making it become defective.
Issues that could result in your starter motor or starting system working efficiently include: you have a bad neutral or clutch safety switch, a defective starter relay, a poorly functioning solenoid, the electrical connections in your starting circuit have corroded over time or you've worn out a component or part of your starter motor through everyday wear-and-tear.
If you have any alternator or starter motor concerns, see our Belconnen Auto Electricians today for a check and testing. Our auto electricians have state-of-the-art testing equipment to diagnose any issues with your alternator or starter motor, as well as the componentry, and once identified can quickly and efficiently repair or replace the system or defective part. You can also contact us by phone or email if you have any questions or concerns relating to your alternator or starter motor, as we're happy to be of assistance.