Auto Electrican Belconnen Canberra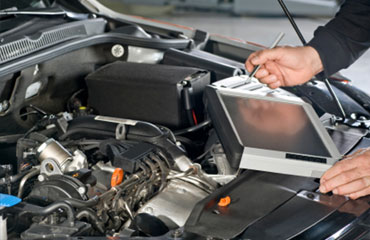 Modern motor vehicles have evolved to become reliant on complex electronic management systems to operate correctly. The metering of your vehicle's fuel through to speed management and windscreen and lighting operation are all dependent on the sensors and mini inbuilt computers that comprise your electronic management system. Other parts of your vehicle that your engine management system controls include your fuel injection and ignition systems, suspension and brakes, as well as your valve timing and exhaust emission control.
At Gibbs Auto Electrical, auto electrician in Belconnen, we have experienced auto electricians with detailed knowledge and the skillset to handle all of your vehicle's auto electrical demands from electronic management system assessment and fault diagnostics to wiring and electrical accessory installations.
With the latest GSCAN system, our auto electricians can quickly and efficiently diagnose even the most complex faults, saving you time off the road and dollars spent in repairs. As we have invested in the most current technology and methodology, we have an edge over our competitors in discovering issues affecting your engine management system much faster. Our auto electricians have many years' expertise in both troubleshooting and fixing faults discovered in engine management systems, so you have peace-of-mind you will receive the most cost-effective solution for your auto electrical issue.
Whether your vehicle requires air conditioning servicing and repairs to having replacement components installed, we are auto electric specialists. We can source new and aftermarket auto electrical parts, as well as long-life batteries that are industry recognised for high performance and durability.
Our full range of auto electrical services include:
Supply and installation of cruise control systems
Fitting of DC to DC charging systems for caravans
Installation of dual battery systems in 4WDs
Diagnosis of climate control systems
Repair and maintenance of air conditioning systems
Installation of air conditioning systems
Engine diagnostic fault finding
Testing of batteries and charging systems
Fitting new batteries
For all of your auto electrical needs at very competitive prices contact our friendly team at Gibbs Auto Electrical today. Whatever your auto electrical concern, our experienced auto electrical mechanics will diagnose and fix it with minimal delay. If you think you may have an issue with your engine management system or any other auto electrical component, book in for an inspection today. You can also give us a call if you have any auto electrical questions or queries you'd like answered.