HID Lights, Car LED, Headlights, Light Bars Belconnen Canberra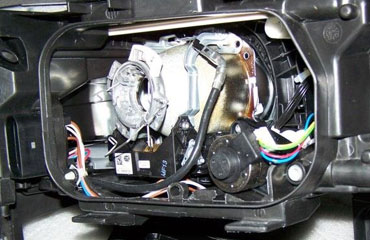 Buying and installing after-market auxiliary lights on your 4WD or halogen lights on your car is essential to navigating Australian roads with adequate visibility, as standard headlights don't penetrate the darkness with the same efficiency. At Gibbs Auto Electrical we stock a wide range of HID lights, car LED lights, headlights and 10w high performance lightbars. Some of the many high-quality brands of aftermarket lights we stock include J.W. Speaker, AP, Baxter and Philips.
To determine which type of lighting is suitable for your vehicle we've provided background information on the broad scope of lighting options available:
HID Lights
High Intensity Discharge (HID) lights have the same level of brightness as Light Emitting Diode (LED) lights. These are the equivalent in automotive terms to the household fluorescent light; the main difference is that the filament of the light globe is replaced with a capsule of gas. For operation, HID lights need high-voltage ballast units which have the capacity to supply and maintain a high voltage, as well as to control the current. HID lights use less power and produce more light than a halogen globe.
LED Lights
LED lights are as bright as HID lights and transmit light by using a semiconductor that is designed to release photons of the light as soon as a charge is applied. This differs to a traditional halogen which has a filament that emits light when charged. LED lights require less energy to produce the same quantity of light as HID lights, which translated makes this variety of automotive light more fuel efficient. As LED lights don't run of a filament they should never have to be replaced. LED lights come in a range of different models, including lightbars.
Halogen Headlights
Halogen headlights provide lighting via a bulb filament after a charge is applied. Aftermarket halogen lights are designed to offer superior on-road visibility for your vehicle. Depending on the brand, halogen headlights can extend your visibility up to 100% when compared to traditional headlights (Philips). Easy to install, as these replace standard headlight bulbs, halogens offer optimal lighting performance to enhance your safety when driving at night.
To discover more about the extensive range of aftermarket lights we have available, or for assistance selecting which lights are suitable for your car or 4WD, drop in and see our friendly team at Gibbs Auto Electrical today. We also offer professional installation for a competitive rate.