Batteries Belconnen Canberra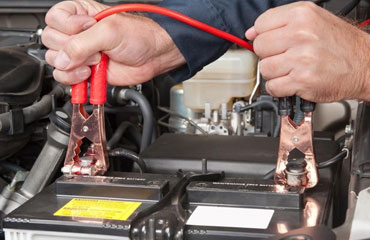 Whether you need a new battery for your bike, car, truck, caravan, marine craft or motorhome, at Gibbs Auto Electrical we can assist you. With a vast Century battery range for all makes and models, you are assured of receiving the right battery to fulfil your needs at a very competitive price.
The Century automotive, deep cycle, marine and heavy machinery batteries we supply and install are all covered by a nationwide warranty, for your peace-of-mind. We specialise in sealed, maintenance-free batteries, which are industry recognised to deliver increased cranking performance, corrosion resistance and longer life, as well as being perfectly suited to Australia's harsh climate and weather conditions with heat tolerance incorporated in the design.
At Gibbs Auto Electrical we also supply and fit start/stop batteries which have to be coded into your car. By booking in to have a start/stop battery installed by us it alleviates you having to pay huge fees through a car dealer to have one installed.
Our mechanical team at Gibbs Automotive will also check and see if your vehicle's charging system is working effectively, as well as test your current battery while you wait.
Different Century Batteries:
Truck
Century truck batteries are built for less downtime, the ability to be able to sustain heavy loads over long periods of time and superior starting power.
Deep cycle
Designed for longer lasting and more dependable power, Century deep cycle batteries offer superior deep cycling capabilities and are suitable for a broad range of commercial and residential requirements.
Marine
With hard-wearing components designed for impact from waves, trailer travel and engine vibration, Century marine batteries are durable, resilient and ideal for recreational and marine applications.
Car
Century's sealed, maintenance free car batteries are designed for high performance and long-term reliability. Corrosion resistant and manufactured to avoid battery failure, these top quality batteries also have a vibration resistance feature to handle regular wear-and-tear while driving. With modern vehicles' optional electrical extras, these batteries can handle additional power consumption.
See our friendly team at Gibbs Auto Electrical for a new marine, deep cycle, truck or car battery today. We are happy to find the right battery to suit your lifestyle and budget. You can also drop in for a battery test to check on the life of your current battery so that you're aware when it needs to be replaced. Call now for a test!