Gibbs Auto Electrical Services Certifications
When you're in your car or truck, or on your motorcycle, or in any other motorized vehicle, you are not only quite literally taking your own life into your hands, but you're also taking the lives of everyone else on the road with you into your hands. Most people don't think about the responsibility they take upon themselves every time they start that engine. This being the case, it's critically important that the work you have done on your vehicle is truly top-notch. No matter who you use for your auto maintenance needs, for your own safety and for that of the other people on the road with you, make sure that they are highly certified to perform the work you need.
How 'Bout That Wall???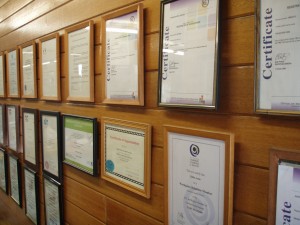 Gibbs Auto Electrical Services has taken great care to ensure that our shop and everyone in it who might possibly be involved with your car, truck, boat, motorbike, trailer or caravan is highly certified in their respective fields of expertise. And yes, we're proud to show it! What you see right here on the wall of our shop is proof of our commitment to the highest possible level of service to you and your vehicle's maintenance needs! We invite you to come on into the shop and take a good look at our certifications as you get to know us! We're ready to help!